The number of people with PhDs is growing worldwide. We know that doing a PhD is a significant undertaking and dropping out of one can result in serious financial loss, psychological issues such as loss of confidence, etc.
It is not surprising that a lot of research exists on the doctoral experience with the aim to improve it and to find out what it takes to finish it.
A body of research also exists that looks at the outcomes of a PhD, i.e. what do people gain from a PhD? This question is gaining importance because there seems to be an oversupply of PhD graduates for academia, which means PhD holders need to seek jobs elsewhere, I.e. in corporate or public sectors.
We analysed PhD requirements to find out what PhD students need in terms of skills, attributes and qualifications.
We analysed the selection criteria for PhD candidates on a platform that advertises PhD programs as job ads. Our analysis of thousands of these ads revealed exactly what types of skills different countries and disciplines require. See the infographic below for a quick summary of the findings and implications of this research: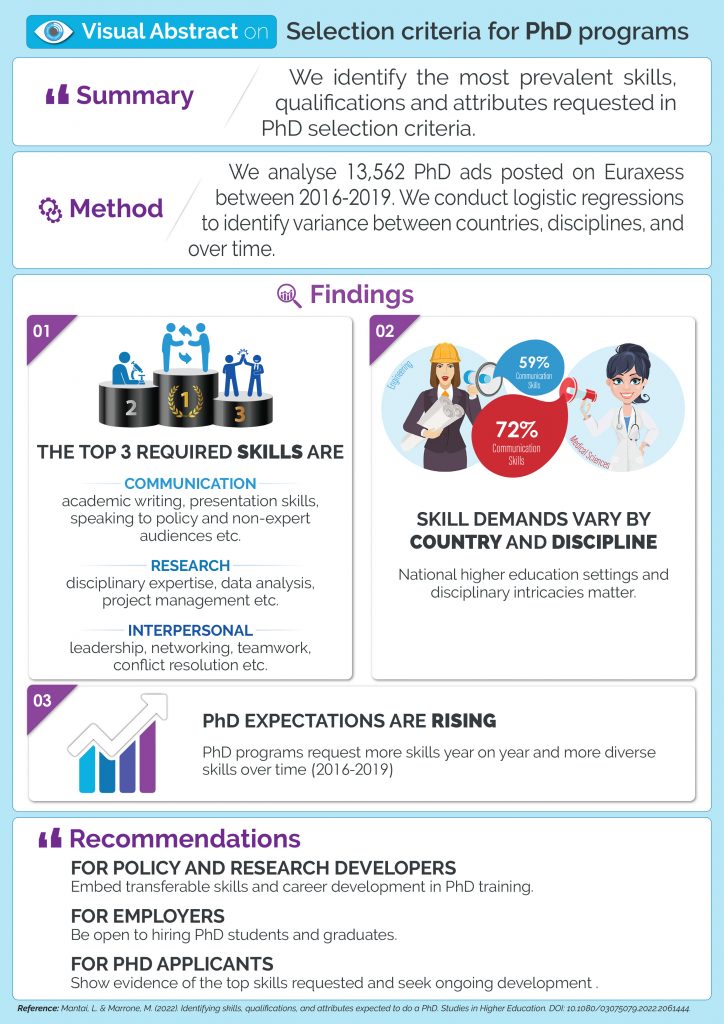 This study draws on the data source of PhD role advertisements (aka 'PhD ads') to identify what skills and/or other requirements doctoral programs seek before PhD admission. We analysed the selection criteria of 13,562 PhD ads posted in 2016-2019 on EURAXESS – Researchers in Motion, a pan-European initiative by the European Commission.
We developed a taxonomy based on the EURODOC 'Transferable Skills for Early-Career Researchers' framework and extracted attributes present in each advertisement. To do this we employed text mining and machine learning approaches. We created an updated taxonomy using data-derived dictionary.
You may use the interactive dashboard below to search for details on PhD ads in any of the 50+ countries and any of the 30+ disciplines represented in the data sample (2016-2021).

See the full paper for full details on the methodology and the research study:
Note: The paper is based on 2016-2019 data only and the sample for this time period can be accessed here.
Read The Conversation article on this research.
Read the Campus Morning Mail post on this research.